The past few years have witnessed how AI is slowly and steadily transforming many sectors including business, transportation, healthcare and security among many others. Many such applications can be applied to enhance the development of cities into smart cities, as we call it today, especially since rapid urbanization is creating the need for smarter solutions.
So what are smart cities? – According to Bismart, a smart city is a city that uses technology to provide services and solve city problems. A smart city does things like improve transportation and accessibility, improve social services, promote sustainability, and give its citizens a voice.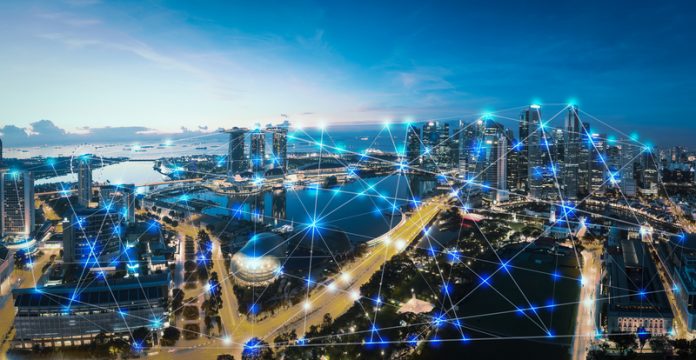 What impact does AI have?
With internet and storage becoming easily available and accessible, there is a large amount of data available that can be used for purposes like marketing or security. The growth of big data and cheaper computing infrastructure have also enabled the explosion of artificial intelligence (AI), machine and self learning, in software applications supporting every aspect of life.
One significant application of AI in a smart city is video surveillance. For example, closed circuit television (CCTVs) can be used for facial recognition. A reporter was tracked down using AI in the Chinese city of Guiyang in less than ten minutes, on December 2017. On similar lines, police officers in Zhengzhou are using 'SMART' AI glasses, to recognize criminal suspects and finding civilians with fake IDs. Internet of things allows devices like CCTV cameras and sensors to share data, increasing the efficiency of security not only in public places but also in private households as well.
AI today, is also being used to solve traffic issues – like adjusting the way traffic lights are metered, or building or closing roads.
Once humans come up with a solution, AI can be used to implement it at a much faster rate. AI can then be used to model the results of proposed measures. This also allows for corner cases to be better understood beforehand. Ideas that might have taken years to prove out and materialize can now be done in a matter of minutes.
Major tech-giants are investing millions on automatic driving. Driverless cars are being tested on the streets of major cities and their commercial production is not far away.
City authorities can use AI to work through huge quantities of data to test and deploy new initiatives to cope with demands for parking as well.
AI is now being used in healthcare to diagnose disease and improve public health. Robotic surgeries are becoming more popular due to its accuracy.
It is also bringing forth the 4th industrial revolution, with the manufacturing industry being transformed through AI. The sector is entering its next phase – Industry 4.0 – which is driven by automation, Internet of things (IoT) and cloud computing. The big players are already investing millions in computer intelligence, so that they can save time, money and resources while maximizing their production.
With so many applications available to improve infrastructure, companies and governments are not afraid of investing huge amounts in this venture powered by AI. These investments will make spread opportunity and make cities more convenient and sustainable.
Cities today are being transformed by technology. The next wave of disruption will involve major automation and breakthroughs in widespread areas, all with the power of AI.
This blog was written by our Content Writing Intern – Rona Sara George. Click on the name to view her LinkedIn profile.
Author: Xaltius (Rona Sara George)
This content is not for distribution. Any use of the content without intimation to its owner will be considered as violation.